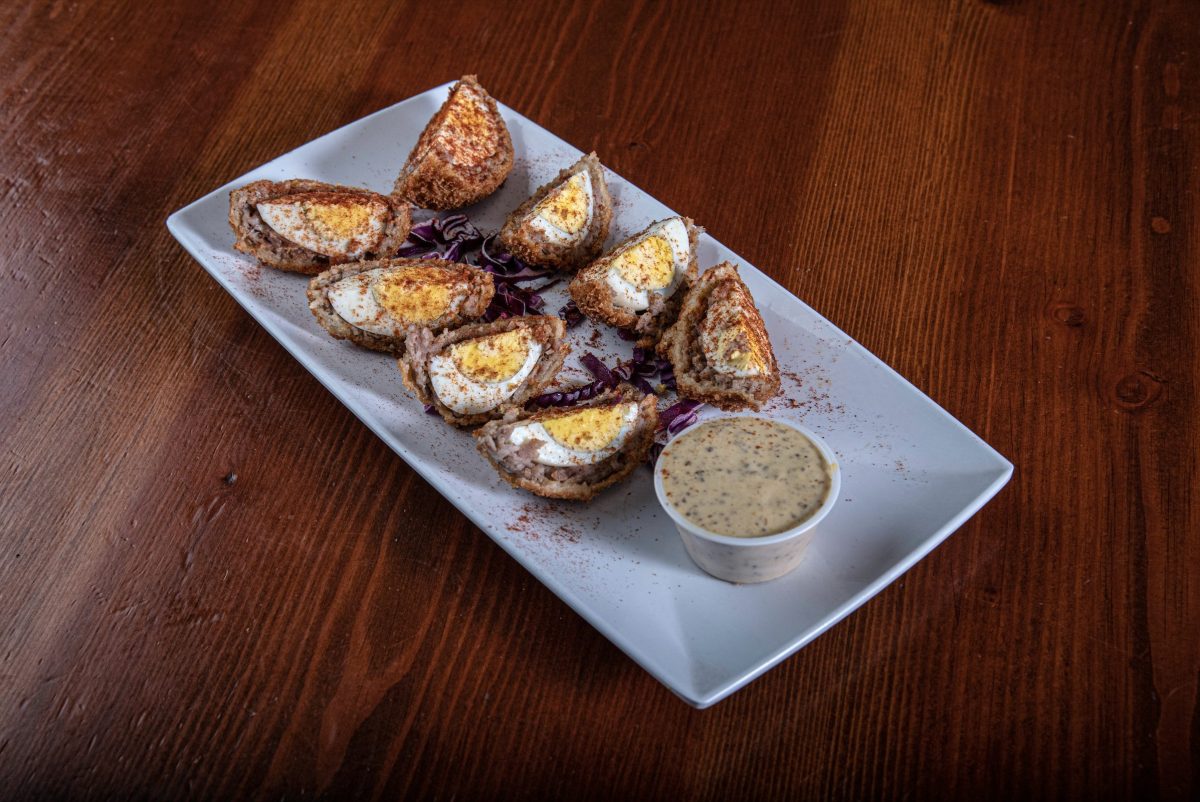 Scotch Egg
Large hardboiled egg rolled in seasoned sausage, breaded and fried. Served open-faced with Maguire's house mustard.
2 for $12
Hot Soft Pretzels
Lightly dusted with salt, baked and served with Maguire's famous house mustard.
$13
+ 6 Cheese Sauce for Dipping $2
(GF)

Jumbo Chicken Wings
Jumbo chicken wings baked in our house blend of seasonings. Finished in the fryer and tossed in your choice of sauce. Hot, Medium, Mild, Honey BBQ, Hotiyaki, Lemon Pepper or Teriyaki. Note: Mixing sauces and requesting all flats or drums is not available at this time.
8-Wings $15
+ Dressing$0.50
+ Celery$0.50
Cheddar Sticks
Hand cut white cheddar cheese, hand rolled and fried. Served with marinara sauce for dipping.
$7
French Onion Soup
A Maguire family recipe served in a crock and topped with croutons and melted Swiss cheese
$6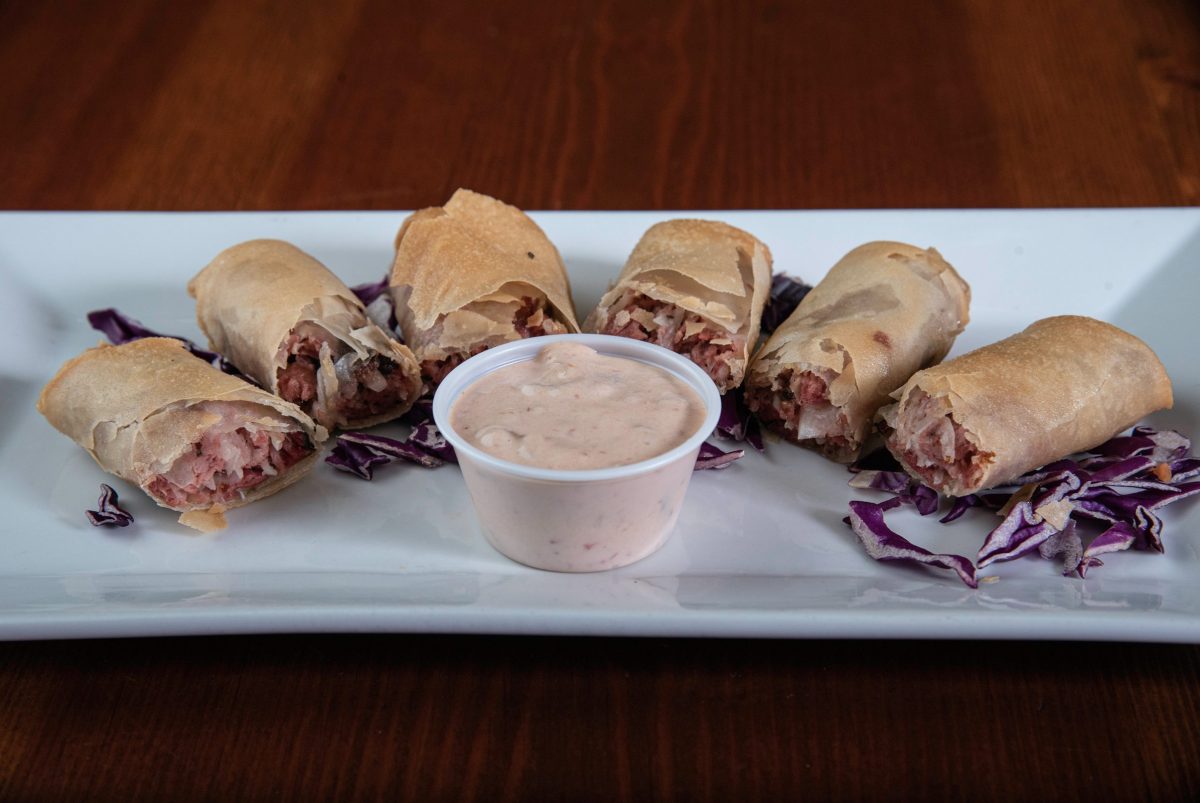 Reuben Spring Rolls
Home cooked shredded corned beef, Swiss cheese, and sauerkraut, hand-rolled and deep-fried. Served with our homemade 1000 island dressing for dipping.
4 for $12
(GF)

Cheesy Spinach Dip
Spinach mixed with a blend of cheeses and baked. Served with kettle chips for dipping.
$10
Local – Sustainable – Fresh. Lettuces produced by Peachtree City's Alo Farms
*(GF)

Cobb Salad
Mixed greens, hard boiled egg, tomatoes, avocado, carrot & cabbage mix, shredded jack cheese and chopped bacon.
Fried Chicken $17
Salmon $19
Steak Medallions $21
Chicken $17
Caesar Salad
Romaine lettuce topped with croutons, parmesan & romano cheeses. The dressing is served on the side. Add Anchovies $2
Fried Chicken $16
Grilled Salmon $18
Grilled Steak $20
Grilled Chicken $16
*(GF)

Side Salad
Mixed greens, tomato wedge, red onion, red cabbage, shredded carrots & crourtons. (GF) = No Croutons
Chicken $11
Salmon $13
Fried Chicken $11
Steak Medallions 15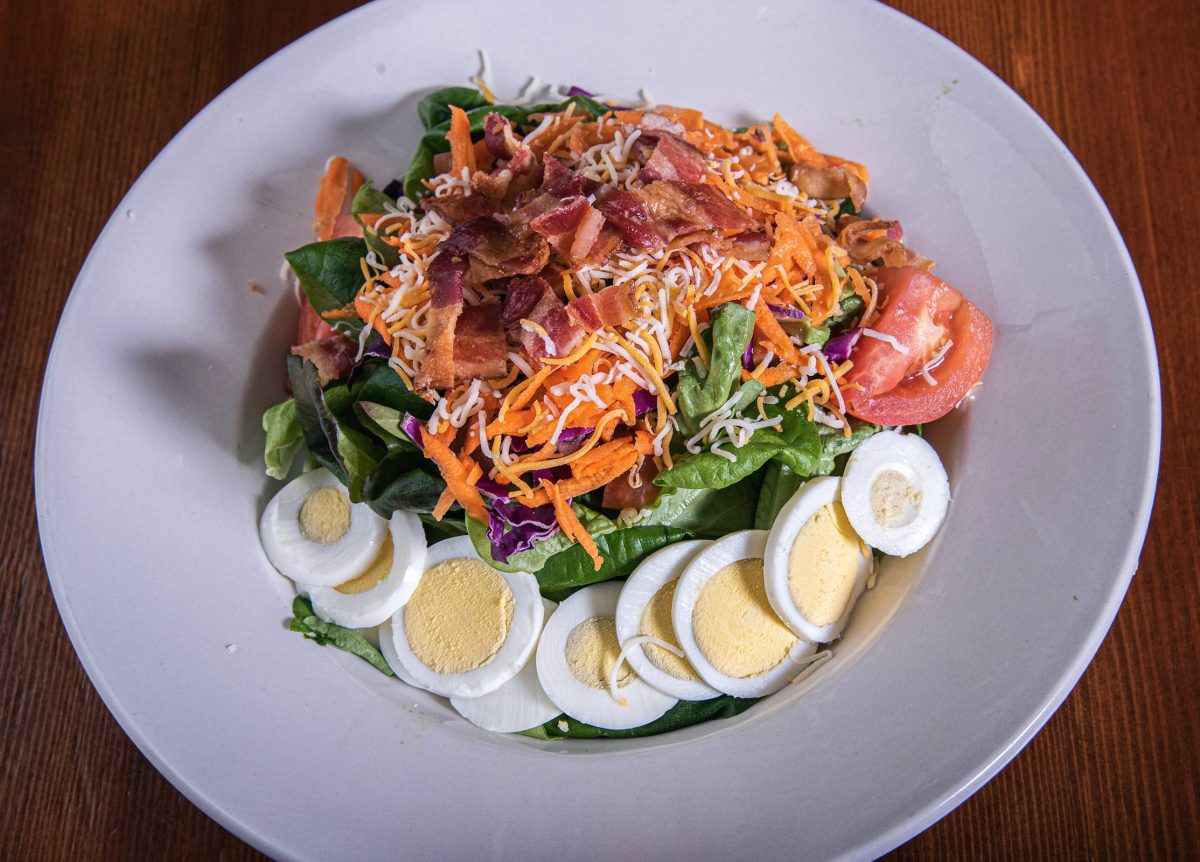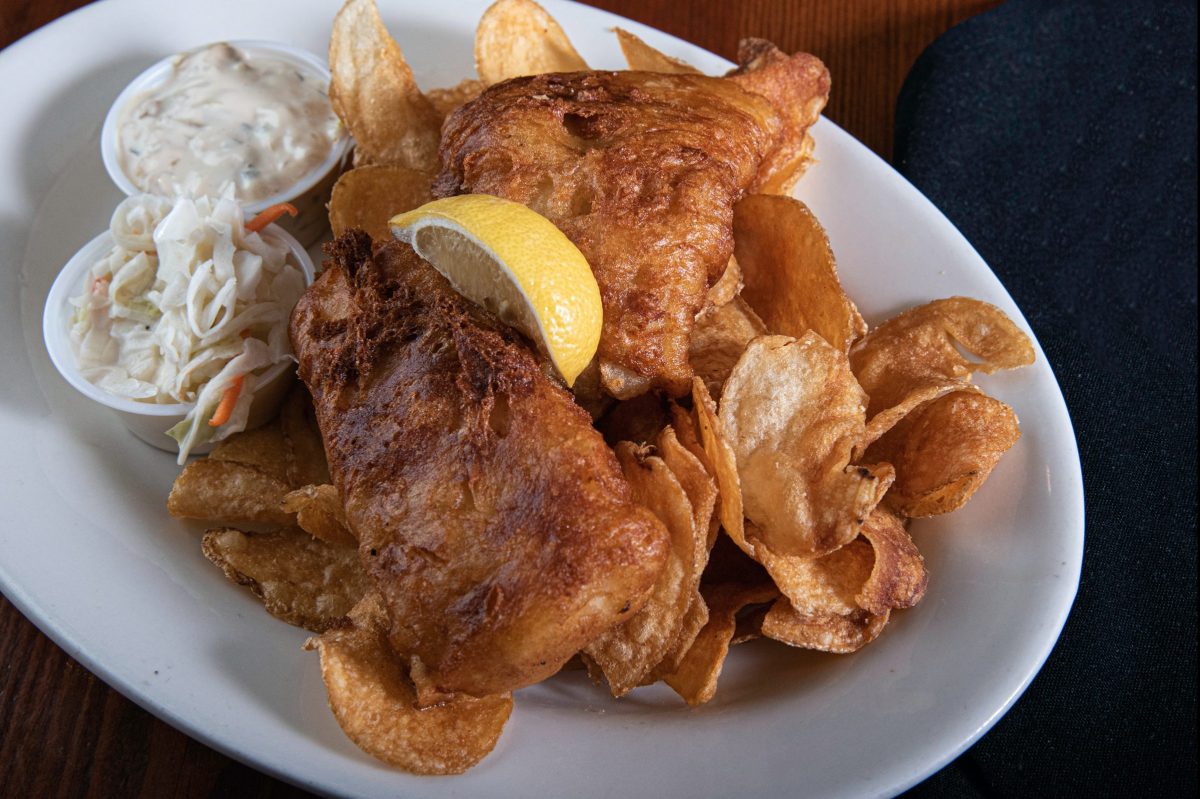 Fish and Chips
2 pieces of Atlantic cod filet hand dipped in our Smithwick's beer batter. Served with our homemade tartar sauce, bottomless coleslaw and your choice of kettle chips or fries.
$19
Salmon Cakes
2 Pan seared salmon cakes served with a zesty romulaude and your choice of 2 sides.
$17
Meatloaf
A Maguire family recipe. Served over mashed potatoes and topped with our brown gravy and fresh onion straws. Comes with your choice of vegetable.
$15
Bangers & Mash
3 Large Irish sausages boiled in Guinness and finished in the fryer. Served over mashed potatoes and topped with brown gravy. Served with your choice of vegetable.
$15
*(GF)

Bacon Bourbon Chicken
2 grilled chicken breasts over mashed potatoes and topped with our homemade bourbon cream sauce. Served with your choice of vegetable. Note: Sauce contains pork.
$17
*(GF)

Corned Beef & Cabbage
Slow cooked for over 8 hours and hand sliced. Served over red potatoes, boiled cabbage and carrots.
$22
Steak and Guinness Pie
Served in a cast iron skillet topped with mashed potatoes and shredded jack cheese. Comes with your choice of vegetable.
$17
Cottage Pie
Ground beef and pork stewed in a rich brown gravy with mixed vegetables. Topped with cheesy mashed potatoes, crushed ritz crackers and baked.
$15
Chicken Pot Pie
Made from scratch with diced chicken, carrots, onions, peas and a touch of rosemary and thyme in a rich gravy. Topped with a puff pastry and baked.
$14
*(GF)

Grilled Salmon
Hand cut fresh salmon grilled your way. Served with seasoned rice and a choice of vegetable.
Lemon Pepper
Blackened
Teriyaki
Just Grilled
$19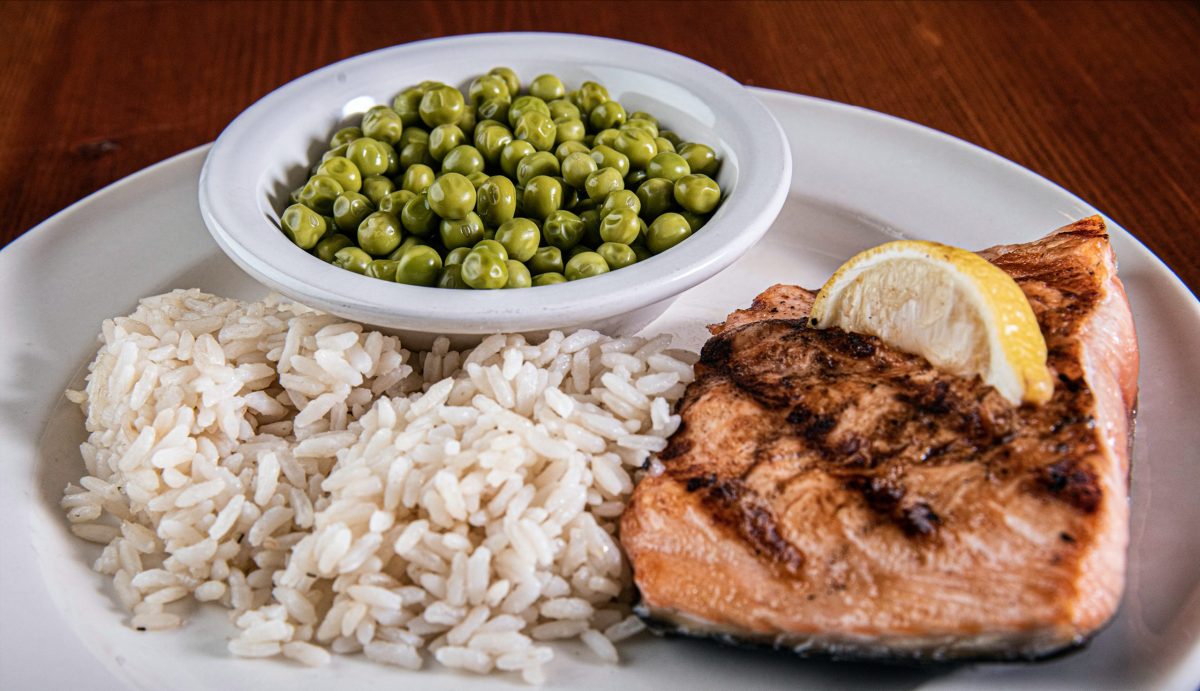 *(GF)

NY Strip
12 oz Center Cut NY Strip Loin flame grilled and topped with our Irish Whiskey butter. Comes with your choice of 2 sides.
$29
Our burgers are a special blend of short rib & chuck brisket, flame grilled and come your choice of 1 side.
Select beef, chicken or black bean.
Gluten free bun available +$2.
 St. James
8oz burger flame grilled and served with mixed greens, tomato, & pickles.
$14
Add Cheese $1
Add Bacon$2
Add Mushrooms $1
Add Sauteed Onions $1
Avocado Bacon Burger
8oz flame grilled burger topped with fresh avocado, smoked bacon and creamy garlic sauce. Served with mixed greens, tomato and pickles.
$16
Donut Burger
8oz burger topped with Apple Wood Smoked Bacon & American cheese. Served on a grilled glazed donut!
$15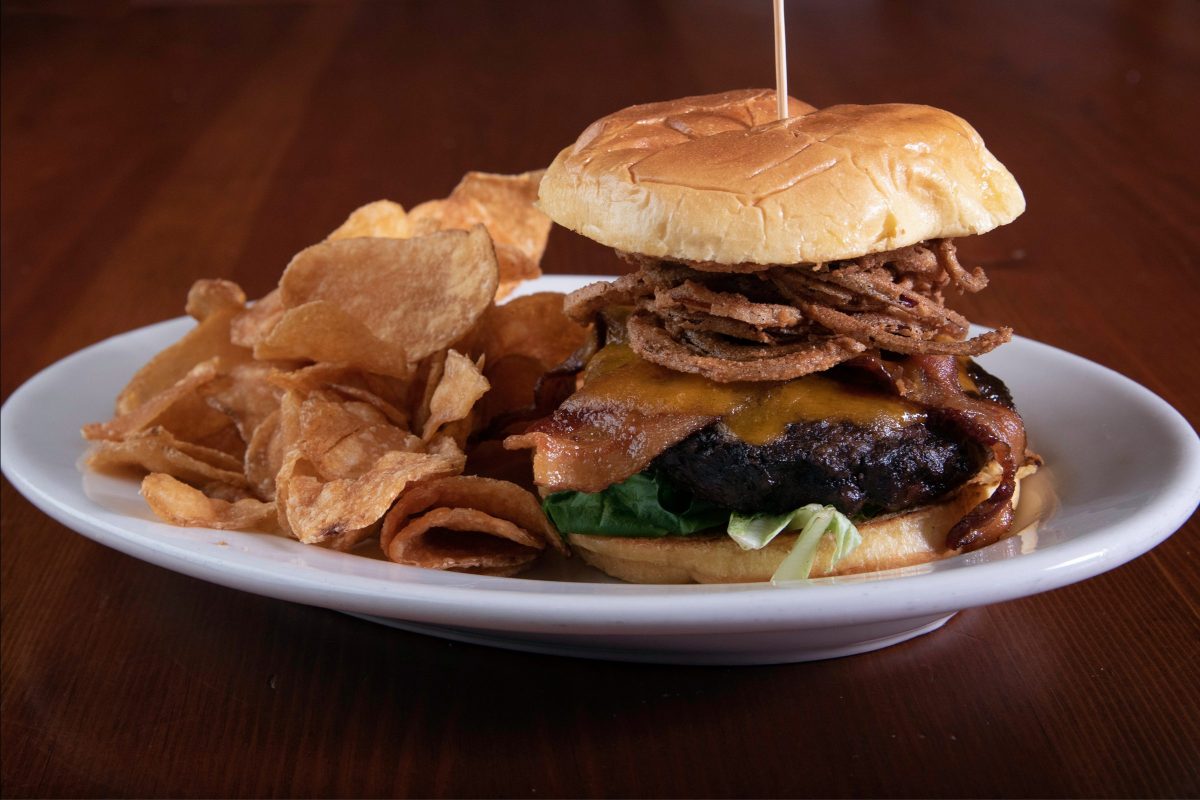 Southern BBQ
8oz flame grilled burger topped with homemade BBQ sauce, thick smoked bacon, melted cheddar cheese, and fried onion straws. Comes with mixed greens, tomato & pickles.
$17
Pub Smashburger
2 4oz smash hamburger patties made from house ground steak trimmings. Topped with Irish cheddar cheese and 2 pieces of Jameson glazed bacon and finished with Big Mag Sauce
$16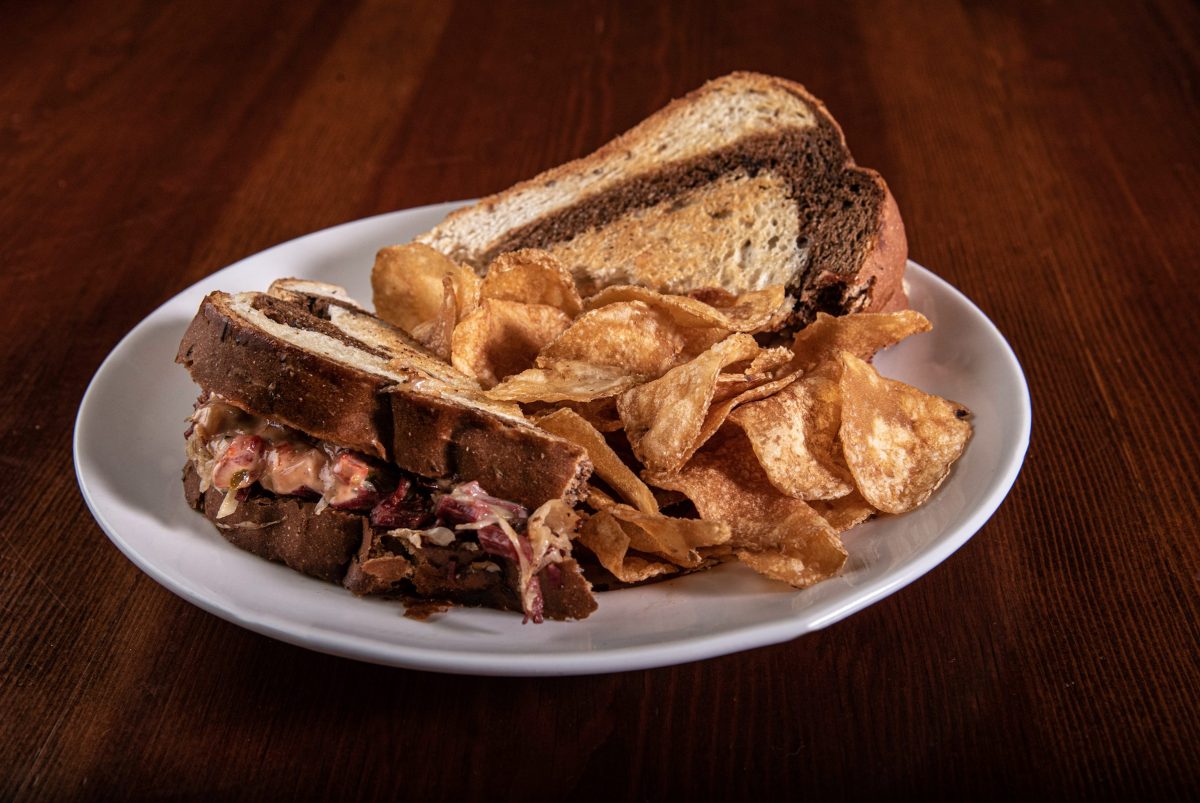 The Reuben
Home cooked corned beef grilled with sauerkraut, Swiss cheese and our homemade 1000 Island dressing. Served on grilled extra thick marble rye.
$16
Turkey Reuben $13
Irish Dip
House cooked roast beef sliced thin in a hoagie roll with melted provolone cheese and topped with sautéed onions and mushrooms. Guinness Auj Jus for dipping.
$14
Chicken Tenders
Breaded chicken tenders deep fried. Toss in any wing sauce for $1.
$13
The Club Wrap
Lightly grilled large tortilla shell wrapped around sliced Ham, turkey, bacon, lettuce, tomato and our house made garlic mayonnaise.
$13
Irish Grilled Cheese
Challah bread stuffed with Irish cheddar cheese, Irish Whiskey candied bacon, sliced tomato and grilled with homemade herb butter and house mustard.
$14
Monte Cristo
Turkey, ham, and Swiss cheese on Texas toast, beer-battered, deep-fried, dusted with sugar, and served with a side of maple syrup or strawberry jam.
$14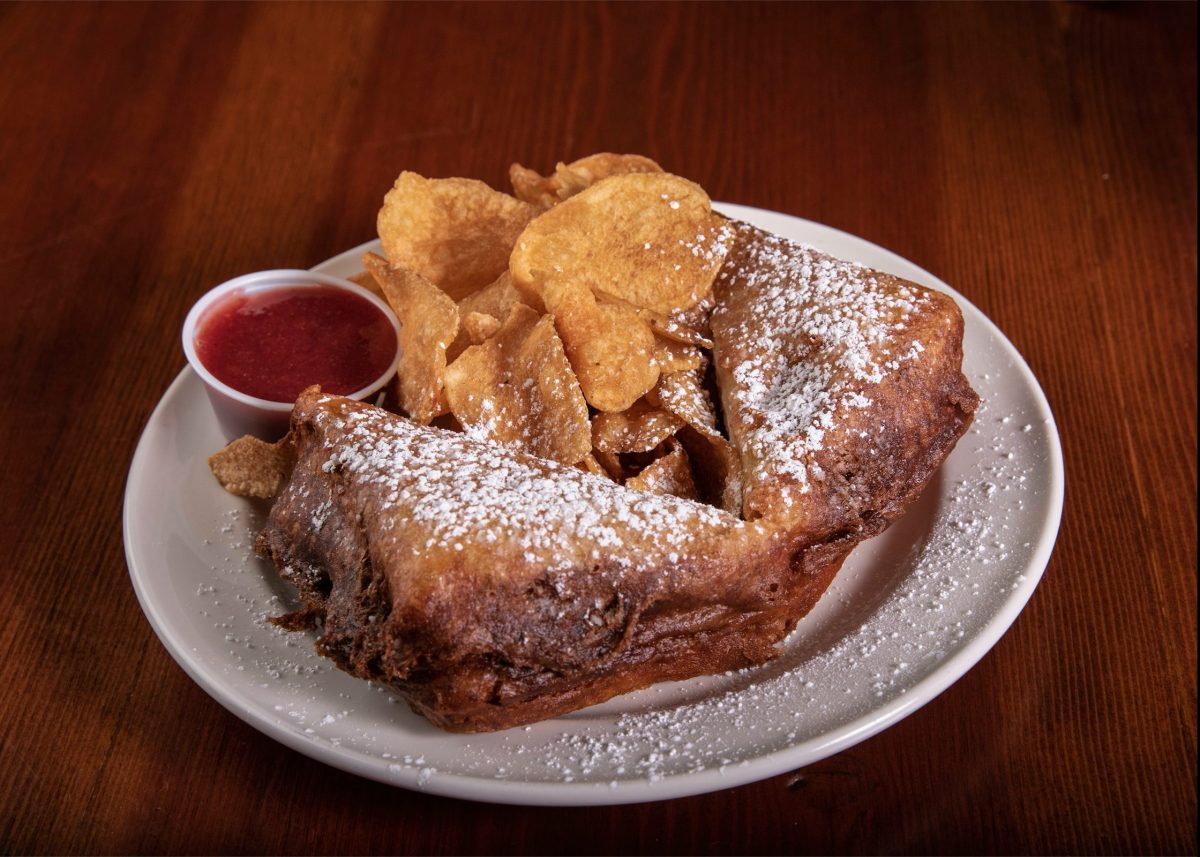 Featuring Maguire's Farm Fresh Eggs from 11am to 2pm.
Irish Breakfast
3 eggs cooked your way, grilled tomatoes, bangers, rashers, mushrooms, breakfast potatoes, toast & strawberry jam.
$15
3 Eggs & Bacon
3 Eggs cooked your way, bacon, breakfast potatoes and toast
$8
Homemade Corned Beef & Hash
Corned beef hash topped with three eggs
$10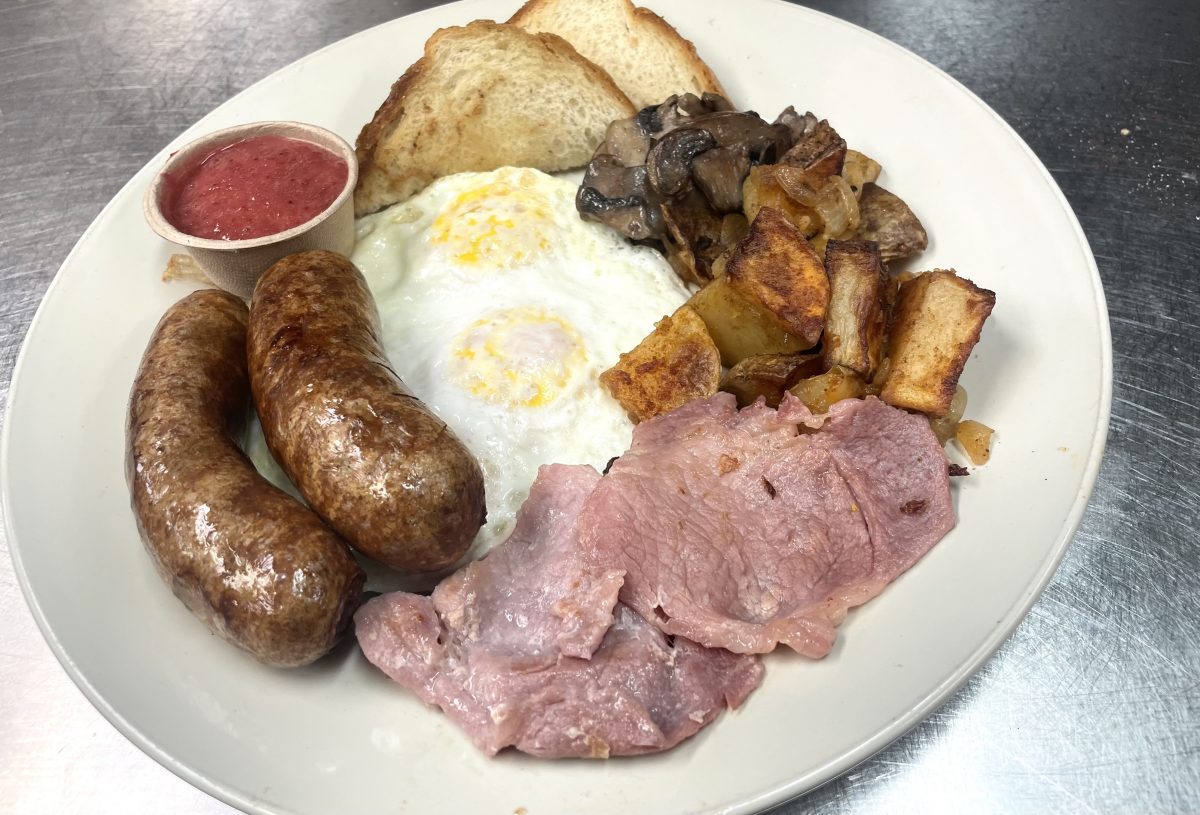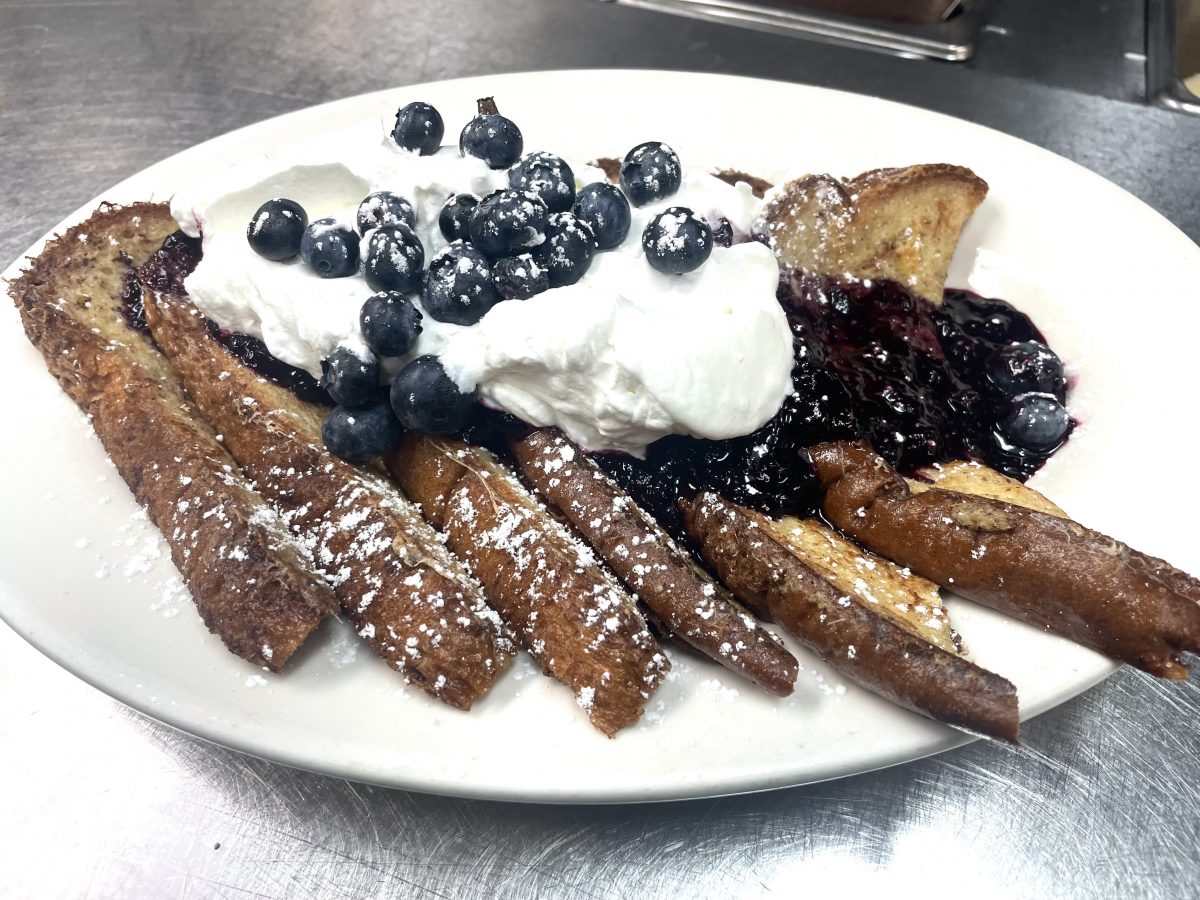 French Toast
2 Pieces of classic french toast dusted with powdered sugar and topped with Irish Whipped Cream.
Seasonal compote $2
$8
Irish Breakfast Sandwich
2 fried eggs, cheddar cheese, rashers on a brioche bun, served with breakfast potatoes.
$9
Hot Coffee
Featuring Peachtree City Roaster Yellowband
Pretzel Rods & House Mustard
$3
House Mustard To Go
8 Ounces
$8
Creme Brulee Cheesecake
Topped with whipped cream and your choice of chocolate or caramel sauce
$7
Bread Pudding
Homemade and served with bourbon cream sauce & cinnamon sugar
$6
Peach Cobbler & Ice Cream
Delicious homemade combination of each served with whipped cream
$8
Ghirardelli Chocolate Brownie Sundae
Warm brownie topped with hot fudge, vanilla ice cream, whipped cream & chocolate sauce
$8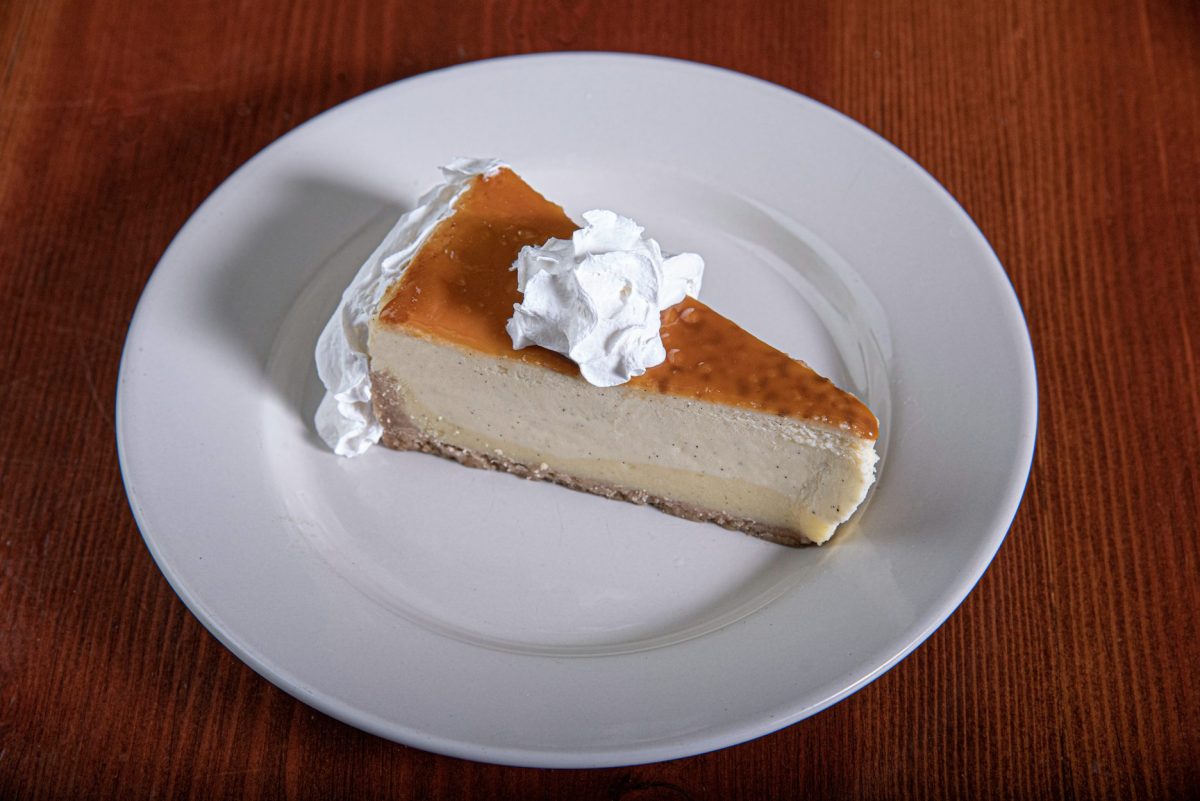 Our Location
Maguire's Family & Friends in Senoia is located at 42 Main Street. Our main entrance is just below street level on Seavy street. For elevator access, please use our entrance on Main Street, located at the buildings front entrance.
Kitchen Hours
Open Daily - 11am to 9pm